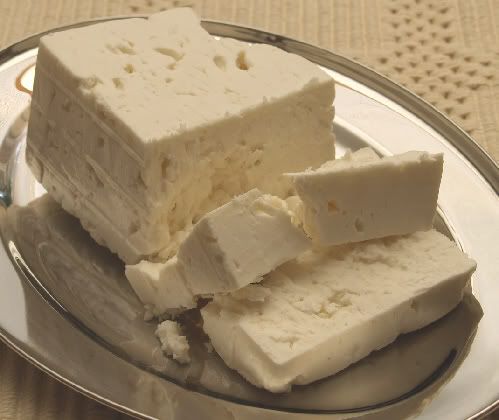 2 c. boiling water
1-1/2 c. dry milk powder
3 T. vegetable oil
1 c. buttermilk
3-4 T. fresh lemon juice
cheese coloring tablets (opt.)

Blend water, milk and oil, allowing foam to settle slightly. If colored cheese is desired, add ½ tablet cheese coloring (or cake decorating paste color) while blending. Pour into hot saucepan coated with a nonstick spray and heat to at least 160 degrees. Add lemon juice and continue to stir until mixture curdles.

Pour into a cheesecloth lined colander. Rinse curds with warm water, then salt to taste. Place cheese in cloth between two plates or spoon into a cheese press. Apply weight and let sit for ½ hour or longer, depending on how firm you want the cheese to be. Remove from plates or cheese press, rinse, wrap in plastic and refrigerate. Use within one month or freeze. This cheese can be sliced, grated, or crumbled. For Smoky Cheese, add ½ t. Liquid Smoke flavoring and ½-1 t. salt after rinsing curds.